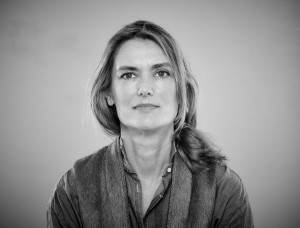 Traces of Impermanence
Change and Stability in the Works of Alex F.

The modern age differs from other epochs due to its fragmentary character. Artificial ruins, torsos, even blurred cave drawings from the origins of human history, all have appeared in artists' paintings since the early 19th century. These fragments can be interpreted as symbols of transitoriness and melancholy. Art is experiencing another fundamental change with the emergence of the great abstract movements in the 20th century. The language of colours and the expressive power of shapes are taking on a life of their own.
The Hamburg artist Alex F. amalgamates these different aspects to great effect in her works. At first glance, her creations are reminiscent of Renaissance frescos that have been uncovered and attached to museum support panels. The "tondo" for example, a circular picture that became the defining form of her new cycle, is a product of the Renaissance. This shape first emerged in Tuscany in the High Renaissance.
Consciously positioned references to the history of art can also be discovered in other places. They come to light as tiny traces in the pictorial artworks. Above all, however, the enigmatic aura is what reveals itself in the overlapping layers of colour – and in their exciting interplay, which on longer viewing brings forth spaces that have a really magic effect. For these the artist prefers to use earthy shades blended with a chalky white, which emphasise the fresco-like structure of her pictures.
This construction is very time-consuming and done with great sensitivity. Alex F. works in exactly the opposite direction to a fresco restorer in Italy's churches or palazzos. Just as the latter uncovers them layer by layer to snatch back priceless fragments of an earlier time, she builds up layer on layer to create a densely atmospheric expression. The resulting impression is that of an overpainted fresco. However, the effect produced in a historic building by the ravages of time is re-enacted by the artist using authentic materials in the studio.
However, Alex F. does not in any way intend to make Renaissance art re-emerge like the work of a restorer. What is much more important to her is the special character of contemporary creative art, which is based on free invention, the character of the materials and the artist's technical skill. A large element of the unconscious comes into play, because she allows herself to be inspired by the inherent and intrinsic momentum of the painting process, and deliberately inserts only a limited amount of controlling input.
The museum-like elegance of her works emerges from the interplay of these different factors, although they do not flow seamlessly into one another. Breakpoints and gaps are intentionally left open and are not integrated. The end result is a "limitless" art, through which the creative process that has lent these works their characteristic vitality remains comprehensible for the viewer.

Dr. Helmut Orpel

EXHIBITIONS
PREVIEW
2019 Royal Arts Prize, London, February 12th-22nd 2019
2019 HanseArt, Lübeck, March 15th-17th, 2019
2019 Kölner Liste, April 11th – 14th, 2019
2019 Society Belle Arti Verona, June 6th – July 3rd, 2019

OVERVIEW
2019 Art Innsbruck
2018 Altonale Kunstherbst, Hamburg
2018 Affordable Art Fair Brussels
2018 HanseArt
2018 Affordable Art Fair New York
2018 Affordable Art Fair Hong Kong
2018 Pop-Up-Ausstellung
2017 Affordable Art Fair Hamburg
2017 Art Fair Luxemburg
2017 Brompton Gallery
2017 Affordable Art Fair London
2017 Kunst Zürich
2017 Art Salzburg Contemporary
2017 Cologne List
2016 AlsterArt, Hamburg
2016 Altonale Kunstherbst, Hamburg
2016 Galerieka, Hamburg
2015 Dr. Burschberg & Partner, Lawyer and Tax Consultancy Bureau, Hamburg
2015 Endologikum®, Endodontology Institute, Oldenburg
2015 AlsterArt, Hamburg
ONLINE SALES PARTNERS
Saatchi Art, London, more…
Kahn Gallery via Artsper, London, more…
Singulart, Montreuil, more…
You may also contact Alex F. Kunst directly via our contact form.